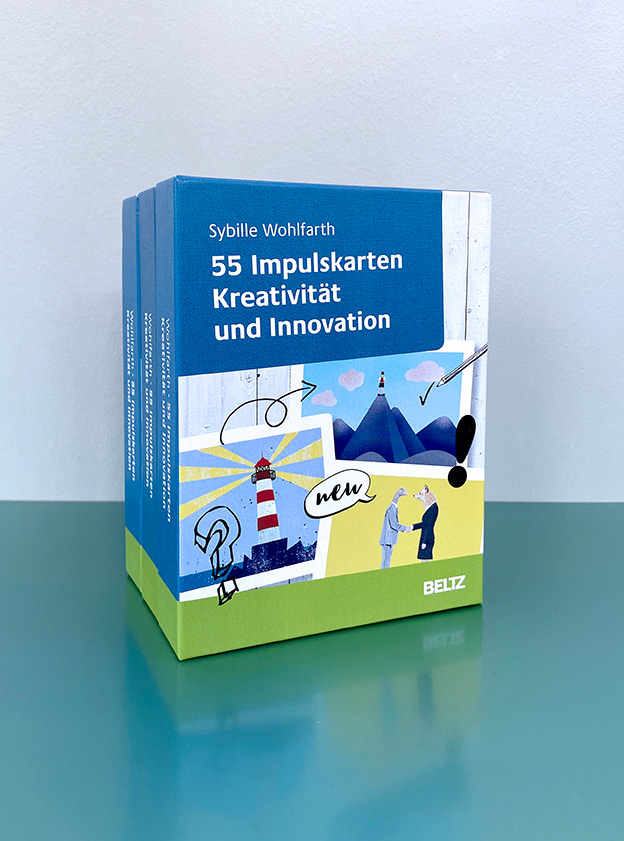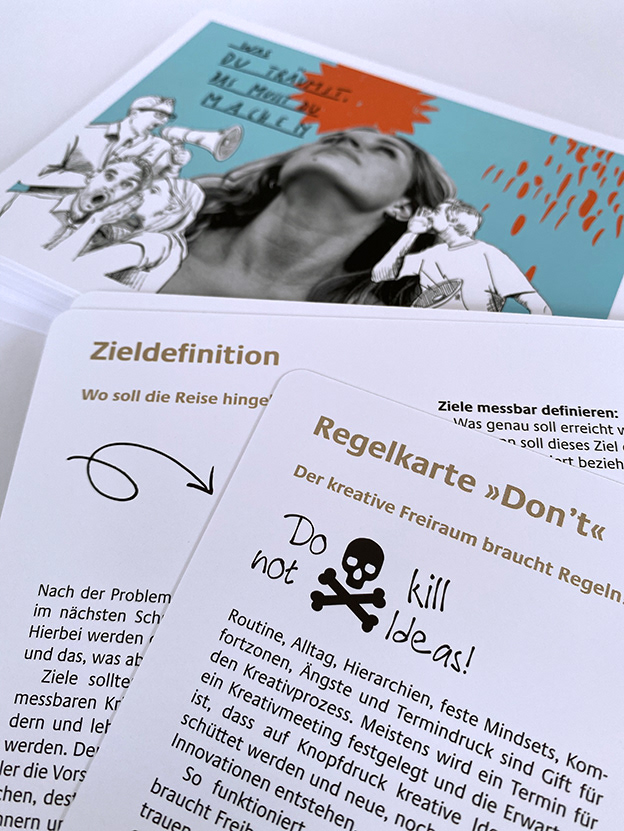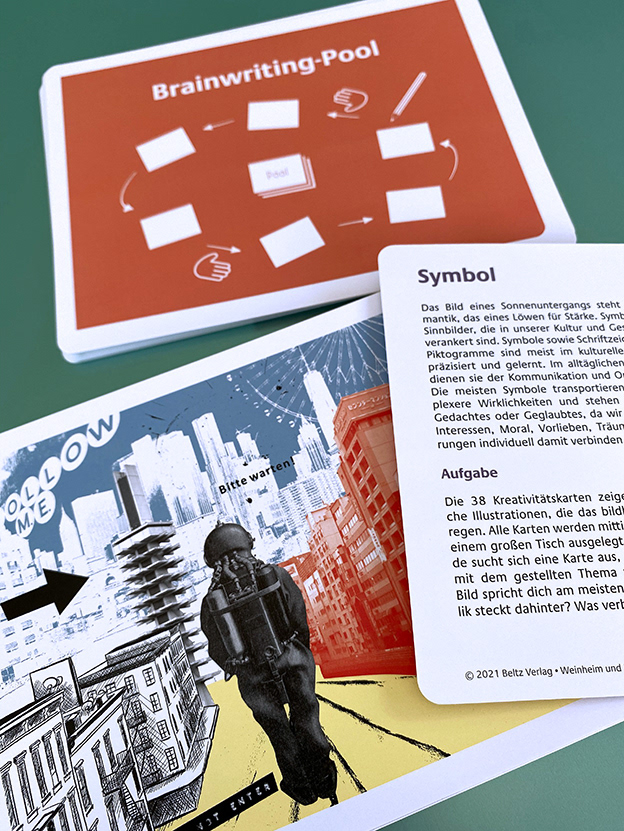 "Die Künsterlerin und Kreativberaterin Sybille Wohlfarth hat bereits ein Kartenset zur Imaginationsarbeit im Coaching vorgelegt, das von vielen Profis seit längerem erfolgreich genutzt wird. Im hier neuen, kleinformatigeren Set mit "55 Impulskarten Kreativität und Innovation" zeigt sie erneut, dass ihr die Ideen niemals ausgehen. Nun nimmt sie aber die Betrachterinnen und Betrachter mit und verrät 55 ihrer Geheimnisse, mit denen auch Coaches, Führungspersonen andere Kreative oder Klienten ihre Ideen sprudeln lassen können: Auf den Rückseiten der inspirierenden, witzigen, überraschenden Karten, die an den Ecken abgerundet sind und angenehm in der Hand liegen, hat die Autorin Methoden, Übungen, Impulse versammelt, die zu Innovationen im Denken und Vorstellen einladen. Die Karten können im Einzelcoaching, in Teamsitzungen, im Unterricht, für gesellige Spieleabende u. a. vielseitig eingesetzt werden. Ich nutze sie im Coaching und meine Klienten kommen auf verblüffende Ideen dadurch. Für die Fülle an Ideen und anregenden Motiven ist diese wirkungsvolle, schöne Kartenbox sehr preiswert. Dazu gibt es noch ein kleines Booklet mit Arbeits- oder Spielanregungen."
Rezension: Dr. Björn Migge, Coach, 
drmigge.de
"The artist and creative consultant Sybille Wohlfarth has already presented a set of cards for imagination work in coaching which has been used successfully by many professionals for some time. In this new, smaller-format set with "55 Impulse Cards Creativity and Innovation", she again shows that she never runs out of ideas. Now, however, she takes the viewers along with her and reveals 55 of her secrets which coaches, leaders other creatives or clients can also use to make their ideas bubble up: On the backs of the inspiring, funny, surprising cards, which are rounded at the corners and lie comfortably in the hand. The author has gathered methods, exercises, impulses that invite innovation in thinking and imagining. The cards can be used in many ways in individual coaching, in team meetings, in schools with students, for social game evenings and more. I use them in coaching and my clients come up with amazing ideas through them. For the abundance of ideas and stimulating motifs, this effective, beautiful card box is very reasonably priced. It also comes with a small booklet with suggestions for work or play."